May 19th, 2018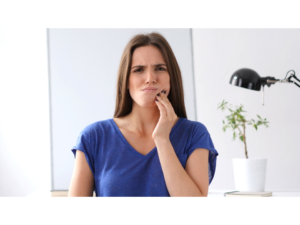 Oh no!  It's Monday morning, you're on the way out the door, but before you leave you decide to grab a quick snack.  You reach for that leftover bagel on the counter top, begin chewing and the next thing you know, something feels different in your mouth.  Your tongue scans around everywhere and it's then that you (and your tongue) notice that the tooth you recently had dental work on feels different.  You feel something hard in your mouth and spit it out...it's the temporary crown!  What should you do next?
Losing or breaking a temporary crown is unfortunately something that can happen during the period of time between the crown preparation appointment and the crown cementation appointment.  The temporary crown is formed with a temporary material and is cemented with a temporary cement.  The reason being, that when you return to the office for your permanent crown fitting and cementation, we would ideally like to remove the temporary crown with ease, by either gentle pulling it off, or cutting it off.  There is a fine line between having a temporary crown that stays on between visits and having a temporary crown that is then easy to remove in order to fit the permanent crown.
If your temporary crown comes off, first assess if you are having any pain.  If your tooth has had a root canal prior to the crown, you likely will not feel much at all, since the tooth no longer has a nerve.  If your tooth has not had a root canal, you may experience some or no sensitivity, especially to hot, cold or air.  Second, try to get to a mirror where you can see your tooth and attempt to place the temporary back on the tooth.  The temporary crown is a custom fit on your tooth and is like a puzzle piece, in that it only fits one way.  DO NOT bite it into place, but instead try to fit it onto your tooth with your fingers.  As your family dentist in Lakewood, CO, we advise you at this time to call the office and we will help guide you on next steps.  Office Contact Information   Of course, If you feel uncomfortable trying to or can't place the temporary back on, please also call the office and we can help guide you with next steps.
It is important that a temporary crown is on a tooth that has been prepared for a crown as much as possible.  The temporary crown protects the underlying tooth structure, as well as maintains the space between the adjacent and opposing teeth.  Even a temporary crown that has been off for a few days can make for a situation where the permanent crown has to be remade.  The new permanent crown may not fit between the teeth anymore, due to the adjacent teeth moving.  Teeth move surprisingly fast, so it's best to call the office if you have a temporary crown come off or break.