July 25th, 2018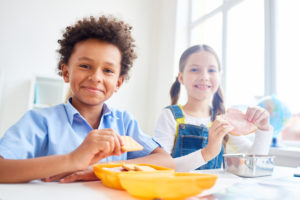 Back-to-School-Time is a great opportunity to discuss healthy options for school lunches and snacks for the upcoming school year.  Of course fruits and vegetables are wonderful choices.  Proteins such as meats, nuts, cheeses and beans are also great for overall and dental health.  Where we start to get into trouble are the carbohydrate-type snacks such as cookies, granola bars, and candy.  The bacteria that cause dental decay use the sugars from these foods to live.  The more sugar that is present, the more "food" the bacteria have to survive and turn into acid that can destroy enamel and cause tooth decay.
In addition to sugary food, sugary drinks can also be harmful to our dental health.  The sugars from juice can also be use by cavity-causing bacteria to cause tooth decay.  Drinking water or milk are the best choices, but if you are going to drink juice, find juices that have the lowest sugar content.  Many sports drinks are also full of sugar.  Reading the labels on drinks is the only way to know exactly how much sugar is in them.
We wish everyone a happy and healthy school year!