March 2nd, 2019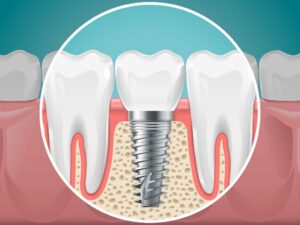 Many questions follow when dental implants are brought up as a possible treatment option to replace a missing tooth or teeth.  Many folks have heard that you can get your implants and teeth all in one day and wonder if that is really true.  The answer is yes and no.
There are two different times that implants are placed: at the same time that the tooth is removed, or at a time after the tooth has been extracted.  It takes the bone about 6 months to fill in the area of the extraction site.  If you are not getting an implant right when the tooth is removed, it is advisable to wait at least six months to have the implant placed (or more if your dental surgeon advises).
When implants are placed the same day, ("immediate implant") as the tooth or teeth are removed, you can have a temporary tooth or temporary fixed denture made so that you have something right away attached to the implant or implants.  The temporary however, is not super stable, as the bone has not yet had a chance to grow around the threads of the implant.  Since the implant is not as stable as it will be after it is fully healed (3-4 months on average), the implant shouldn't be "loaded" with the full amount of force that it will eventually be able to accommodate.  This means that it is inadvisable to place a temporary crown with an immeidate implant that is in a position of the mouth that will be taking a lot of force (think of the chewing molars and premolars).  If it is a front tooth that is an area that doesn't take a great force in normal function, it may be an option to have a temporary crown that you don't really chew with and benefit more from the esthetics of having it there.
Additionally, a temporary fixed denture can be made to be attached to immediate implants if the surgeon determines at the time of surgery that the implants are stable enough.  However, the temporary denture can't be used to chew foods and function as it will when the implants are fully healed.  Usually during the healing period, a temporary fixed denture wearer is limited to soft foods that can be cut with a plastic fork.   Once the surgeon determines that the implants have healed, a permanent fixed denture is made and that will be the one that can do the heavy chewing.
Whether immediate implants (and their temporaries) can be placed is best decided by the dental surgeon and restoring dentist.  Every patient and every situation is unique and what works for one patient may not be the best treatment for another.
At Stevens Family Dental, we place and restore implants at our Lakewood, CO dental office and would love to work with you to determine the best treatment options for your unique situation.