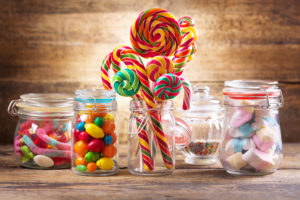 June is National Candy Month, so what better time to discuss the impact that sugary treats can have on your teeth?
We know that many of our patients love candy...in fact, we do too!  However, knowing some tips and alternatives in order to minimize the damage that candy can cause is always helpful.
Let's start by addressing some of the worst aspects of candy:  The longer candy is in your mouth, the more damaging it can be.  Hard candy that you suck on falls into this category.  Instead of eating the candy within a couple minutes, and then allowing your saliva to start to neutralize and wash it away, sucking on hard candies for long periods of time, allows your teeth to be continually bathed in sugar. Alternatively, if you eat hard candy quickly and crunch down on it, you risk fracturing a tooth, filling or even a crown!  If you've got to satisfy your hard candy fix, opt for a hard candy with an alternative sweetener (something not made from sugar, such as Xylitol) and don't bite down on it.
Chewy and sticky candy can also wreak havoc in your mouth.  The stickier and chewier candy is, the more it bind to your teeth, especially all of those little grooves on the chewing surface of your molars.  Again, the longer the sugars are present in those little grooves, the more likely that the sugars will cause damage.  Also, chewy and sticky candy can bind to permanent crowns and pull these off rather easily.  Avoiding chewy and sticky candy altogether is probably your best bet here.
"Is gum chewing OK for my teeth?" is a question we get often.  Chewing gum that has the sweetener Xylitol in it, can actually fight cavities!  Your best bet is reading the label on gum to see if it contains Xylitol or real sugar.  The downfalls to gum chewing (even with Xylitol in it) can include the gum binding to crowns and pulling them off.  For some people, chewing gum can exacerbate the tightness of their chewing muscles, causing pain and discomfort.  If you're going to chew gum, choose one with Xylitol in it.  If you notice your jaw joints and jaw muscles are feeling tight or painful, stop chewing gum for a few days a give your muscles and joints a break.
We hope that your June is filled with delicious treats in celebration of National Candy Month, but proceed with caution!